Living Tisza natural mooring
About 70 m from the campsite's gate on the Tisza, on the other side of the embankment, there is a natural mooring, a favourite stopping point for boat trips. We are planning to install a mobile pontoon here soon, which will be able to moor several boats and will be suitable for fishing.
The mooring is located above 514 river-km, GPS coordinates:
48°01'30.8″N 21°13'37.0″E
48.025227, 21.226939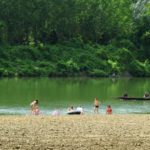 Please remember that the water depth of the Tisza changes frequently, deepens rapidly and has a strong current. For bathing and swimming, we therefore recommend the well-developed Tiszadada beach, a 15-minute walk away, with its grassy and sandy beach.
The water quality in this part of the Tisza river according to the annual measurements of the European Environment Agency (EEA) has been rated excellent every year since 2017! (https://discomap.eea.europa.eu/Bathingwater/)